One of my (big) projects this winter mod season is to give the Boss a complete exhaust system makeover.
New parts include:
 - Kooks 1-7/8" Super Sport shorty headers with Airborn (1700 degree) ceramic coating
 - Kooks Gen-II side pipes
 - MRT H-pipe
 - Borla over-axle pipes
 - GT500 quad-tip mufflers
Since I live in the smog-police state of CA I plan on keeping the factory cats.
I also have a set of QTP electric cutouts that I will be reusing in the new setup.
I have all the factory parts removed from the car and all the new parts have all arrived.
Thought I would post a picture expose' comparing the factory parts to the new.
My objective for this upgrade is to increase flow on the output side of our awesome 302 power plant.
Here is a pic of factory exhaust. Notice the numerous 'pinch' points.
The diameter coming out of the factory cats is 2-3/4"
The new parts maintain a minimum 2-3/4" diameter all the way to the rear mufflers.
(side pipes are slightly smaller - about 2")
Here are a couple pics of the Kooks headers compared to stock.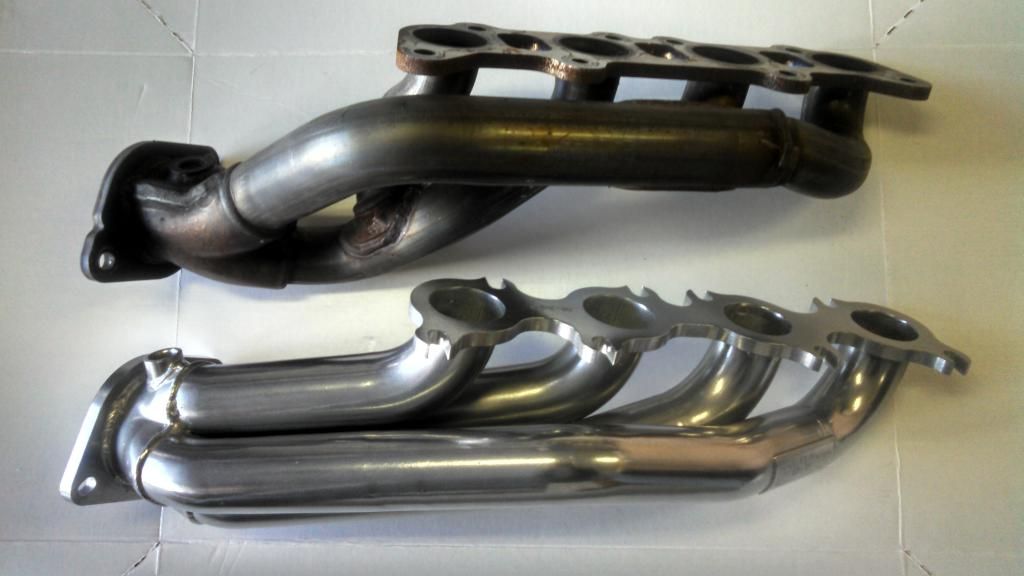 Factory H-pipe vs. new MRT part.
Here are a couple pics of the factory side pipes compared to the new Kooks pipes.
Factory over-axle pipe compared to new Borla pipe.
BTW - Ever wonder what the inside of those factory resonators looks like ?
Previously I had the GT500 single-tip mufflers.
The new mufflers are the dual-tip (quad) version.
I paint the mufflers black to help hide the big cans.
Install of the new exhaust parts is underway.
The headers are a real challenge.
I plan on starting a new topic to discuss the (numerous) steps for installing headers.
The rest of the exhaust system is a fairly easy upgrade by comparison.
Once done I'll post a couple more pics of the final results.
 - b13 out...
Edited by bossy13, 30 January 2015 - 03:01 AM.